Our family has been in the cleaning and hygiene industry our whole lives so we have literally grown up with it, like a third sibling. Our parents set up our commercial cleaning business in 1980 so it's kind of in our blood and was inevitable really that my brother and I would follow in their footsteps.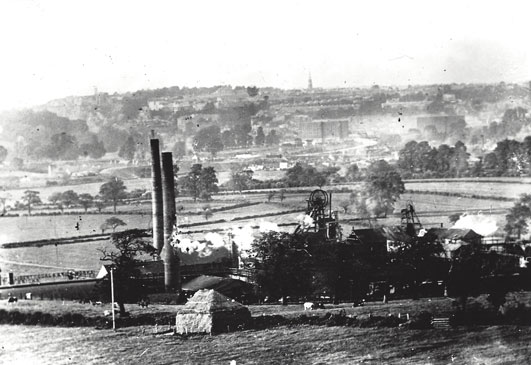 We love this old photo of the site our premises stands on, taken circa 1910, which one of our suppliers stumbled across in a car boot sale. Not that our business has been going that long of course but being proud of our Bristol roots we love to know a bit of the history of the site, which as it turns out was the former South Liberty Lane coalfield. We have great road links from here to the M4 and M5, as well as enjoying some fab views of the Clifton Suspension Bridge (as shown by the panoramic photo below, taken from the window at Avanti HQ).
Fast-forwarding 38 years to today, the business has expanded over time to include our hygiene, catering and workplace supplies business Avanti Hygiene, which we, as the 2nd generation now at the helm, are proud to be heading up and taking forwards in ever new and exciting directions!
1980 - David and Jayne Hunt start a commercial cleaning company. Bristol Office Cleaning Specialists (BOCS) is born
2003 - Their son Bradley graduates in Business Studies from the University of the West of England. He joins his father at BOCS, located at the Bedminster, Bristol, offices
2004 - The business expands, setting up its distribution business Avanti Cleaning Solutions (Avanti is an Italian word meaning 'onwards' or 'ahead') . An exciting new beginning!
2004 - The company relocates to a bigger site on South Liberty Lane in Ashton, Bristol where they continue to thrive
2009 - Qualified buyer and Oxford University graduate, daughter Rachel joins the company. The family-led team are in place and ready to drive Avanti to great heights
2011 - First website launched
2012 -  Avanti becomes a Limited company and at the same time undergoes a re-brand, changing its name to Avanti Hygiene Limited
2018 - Bradley and Rachel become Directors of the business as parents start to enjoy a semi-retired position
2018 - Ecommerce website launched
The Environment
We listen to our customers when you tell us that you would like more sustainable, environmentally-friendly options. So whether that's reducing usage of plastics by offering biodegradable and compostable catering disposables, or green chemicals, we can help reduce your business' impact on the environment. Look out for the green leaf icon alongside products which have a lower impact on the environment.
We have close relationships with all of our partnering suppliers and our team benefits from in-depth product training and technical backup, all of which helps us offer a better service to our customers. Additional services we offer our customers include site visits, product and system training, dispenser provision as well as regular reviews to identify cost-saving initiatives.
We love what we do and are passionate about our fantastic customers' businesses.  We not only specialise in hygiene but catering supplies, first aid, clothing, safety footwear and PPE. 
The environment - we stock a wide range of products with a lower impact on the environment including eco chemicals and compostable catering disposables
Clean and hygienic public spaces, schools and workplaces
Working collaboratively with our customers to provide quality products, reliable service and to simplify procurement
Good quality products at a fair price
Our home city of Bristol! We work with customers far and wide but we love keeping the offices, schools, care homes and food factories of Bristol hygienic and compliant
But that's enough about us – let's talk about you. Whether you are running the technical team of a food processing plant, the owner of an events company or coffee shop empire, or responsible for the health and safety of your manufacturing workforce, you need a reliable partner to take care of your hygiene systems/catering disposables/safety footwear and PPE.
We look forward to seeing you soon!

We only stock products from carefully-selected, qualified suppliers who meet our strict requirements for quality, service, reliability and technical support. We are proud to stock products from a number of market leading brands, including Tork, Vegware, Evans Vanodine, Hillbrush, GOJO, Cofra, SYR and Robert Scott & Sons, to name a few. We stock CHSA accredited products so you can be certain of quality.
Being a family business every customer is important to us from the smallest to the largest multi-site organisations, and our strong belief in customer service and the customer always being right guides everything we do. Above all you can expect an enthusiastic supplier who will do what they say they will and add value to your business, leaving you time to attend to your busy day job.



















Tel: (0)117 963 3629
Fax: (0)117 963 5070
Avanti Hygiene Limited
179 South Liberty Lane
Ashton, Bristol, BS3 2TN
Tel: (0)117 963 3629
Fax: (0)117 963 5070
Avanti Hygiene Limited
179 South Liberty Lane
Ashton, Bristol, BS3 2TN